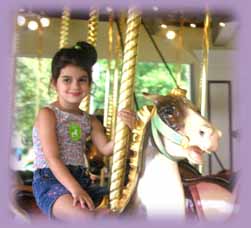 Offering family vacation information on family friendly accommodations and lodging,activities and events, restaurants, the horse track , transportation, and much more in the Saratoga Springs area.
Saratoga enjoys a national reputation as one of America's best places to visit. Why? Because there's plenty to do for the whole family. From the incredible parks; the dance, car and horse-racing museums to the playgrounds, pools, lakes, family-friendly restaurants and, yes, candy shops and toy stores, there are dozens of reasons why Saratoga Springs is a fabulous, family-friendly destination.
Traveling with little ones can be hard. But with the right amount of planning, your trip to the Spa City could be the unforgettable family adventure you've been looking for! So pack your bags and grab the camera: dive into this guide for tips on how you can make a family vacation in Saratoga one to remember!